This post was originally published on sothebysrealty.com
Article By | Iyna Bort Caruso
When it comes to equestrian estates, property owners are passionate owners. Where they live and how they live is all about living to ride.
"The best word I can come up with is completeness," says Bridget Brandon, a farm and equine consultant who owns a 15-acre equestrian property in the Fort Worth, Texas, suburb of Argyle. Brandon, a former competitive jumper and now recreational rider, has four of her own horses and boards eight retired show horses on her land. She says that feeling of completeness is the culmination of skill, confidence in the saddle, and synergy with the horse that all comes together for a perfect ride.
It's a lifestyle that's challenging, expensive, demanding, dirty, and, most of all, rewarding. Owners are all in. They like having control over the way their property is run, how their horses are cared for and "the freedom of going out and practicing on their own schedules," says Thomas Baldwin of Equestrian Sotheby's International Realty in Wellington, Fla., the epicenter of the winter equestrian world.
Conversations are different in the equestrian community because owning land requires specialized know-how of what it takes to manage it. The talk is about water sources for horses rather than water features for aesthetics. Well-maintained pastures are prioritized over well-tended landscaping. Baldwin says buyers often put the needs of their horses over their own.
Equestrian communities thrive around the globe, particularly in Mexico, China, Brazil, and Argentina, according to the U.K.-based equine marketplace Horsemart. The U.S. has the most horse owners. Texas, California, and Florida lead the country. Cities like Lexington and Louisville, Ky.; Aiken, S.C.; and Ocala and Wellington, Fla., for instance, share a rich and historic riding culture. Some believe passion for the equestrian life is in the genes. Brandon is one of those people. She grew up a city girl, as well as a debutant. "Nobody in my family had anything to do with horses. But somehow my first word was 'pony,'" she says.
As a teen, she spent time cleaning stalls at a friend's family farm in exchange for riding lessons and fell hard for the barn life. "It's an all-encompassing sport that brings everybody together. It doesn't matter who you are or where you're from. All that matters is your love for horses."
OLD WESTBURY
NEW YORK "GROTON PLACE"
Commanding 108 acres, this spectacular country estate includes a 26-room brick Georgian-style manor house built in 1932 by architect Henry Sedgwick for Robert Winthrop. There is a pool and pool house, tennis court, playhouse, extensive stables and paddocks, a squash court, large barns, cottages, and numerous outbuildings, and garages. Located in Old Westbury, the manor house has seven master bedrooms, nine full baths and three half bathrooms, ample staff quarters, a wine cellar, central a/c, and a generator. Jericho/Westbury school districts. Approved subdivision.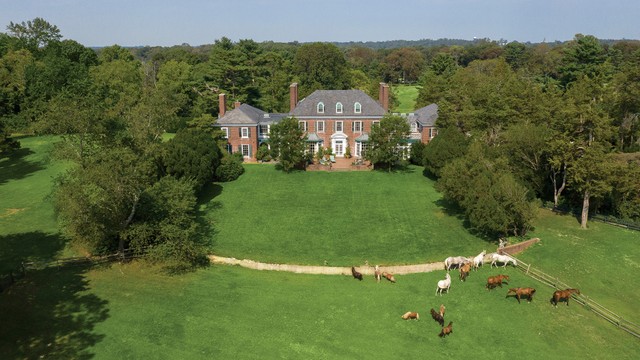 $22,000,000
Property ID: 7MQE3D | danielgale.com
Daniel Gale Sotheby's International Realty
Meredyth Hull Smith +1 970.471.2557
Christy Porter +1 516.835.5512
Lois Kirschenbaum +1 516.526.7425
WELLINGTON
FLORIDA
Welcome to the ultimate equestrian paradise.
This nearly 55-acre estate property nestled within the prestigious gated community of Wellington Preserve in Wellington, Fla., is nothing short of exceptional. Custom built and with no expense spared, the property boasts a 64-stable barn, two world-class polo fields, and an all-weather riding arena with top of the line footing. Additionally, a remarkably designed clubhouse and outdoor courtyard complete with an outdoor kitchen offer both luxury and function. Comprising the courtyard are four distinct sections of stables, each with its own tack lounge and feed/utility room allowing for privacy. Two three-bedroom, two-bathroom apartments await guests, while beautiful and efficient staff accommodations for up to 16 people lie adjacent to the barn. While aesthetically exquisite, function and ease of use are paramount in the design. With the ability to subdivide for flexibility and varying equestrian disciplines, and plenty of space to build the perfect estate home, this property is truly one of a kind.
$40,000,000
Property ID: RK6ZHF | equestriansir.com
Equestrian Sotheby's International Realty
Michelle Hall +1 713.303.7369
NORTH HAMPTON
NEW HAMPSHIRE
The historic Runnymede Farm is an extraordinary part of New Hampshire seacoast history. Originally owned by Massachusetts Gov. Alvan Fuller, Runnymede Farm is located on the south side of Atlantic Avenue in North Hampton on the banks of Little River, an estuary that provides access to the Atlantic Ocean. Peter Fuller, a well-known businessman, philanthropist, and thoroughbred expert bred and kept horses there until the early 1980s. During this time Fuller owned the famous 1968 Kentucky Derby Winner Dancer's Image. The Farm is comprised of a 4,080-square-foot barn, 3,000- square-foot caretaker residence, expansive paddocks, a riding/jumping arena, and other high-end equestrian amenities. The barn boasts 12 stalls, a central hay drop, a bathing bay with hot and cold water, a heated tack room, an office, a kitchen, and two half bathrooms. There is an outdoor kitchen and a fire pit to enjoy during the seacoast's warmer three seasons. An additional 1,150-square-foot barn provides additional equestrian possibilities and storage. In addition, significant infrastructure has been upgraded to provide for a potential indoor riding ring.
$5,200,000
Property ID: PHDFDK | tateandfoss.com
Tate & Foss Sotheby's International Realty
Tony Jalbert +1 603.498.6241
TURKEY
NORTH CAROLINA
Travel along Longhorn Creek Lane and you will encounter the tree-lined entrance to one of the most notable equestrian estates on the East Coast. The owner's passion for horses and generations of family history have inspired something unparalleled. The property provides a sanctuary for the outdoor or equestrian enthusiast, encompassing 600 +/- acres of picturesque, rolling landscape, including a 20-acre lake, and miles of trails in a convenient, accessible location. The Stan Gralla designed Main Barn boasts 10 16'x 16' stalls with inner & outer doors and tack room. The Santa Fe-inspired 3,000-square-foot residence above the barn features four wood-burning fireplaces, Saltillo tile, magnificent views of the property from two decks, and a viewing area that overlooks the world-class 100'x 200' indoor arena. The Main Barn and residence incorporate fine architectural elements including heirloom grist mill stones, hand hewn beams from the owner's personally curated collection and antique doors once located in a European church. The property offers lighted indoor and outdoor arenas, a Hofman hot walker, veterinary facilities, laundry and wash down areas, run-ins, catch pens, round pens, recovery/turnout paddocks, and a spacious pasture.
$7,500,000
Property ID: 4S6478 I landmarksothebysrealty.com
Landmark Sotheby's International Realty
Lisa Sledzik +1 910.538.9190
Joy Donat +1 910.200.4117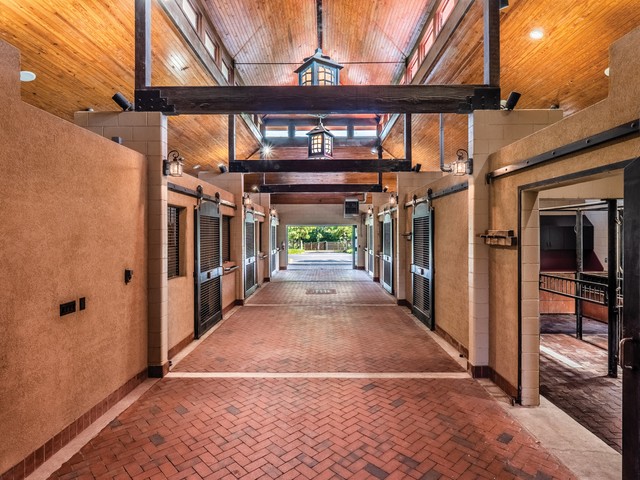 RIDGEFIELD
CONNECTICUT
Double H Farm is a world-class equine facility on 87 acres with luxury amenities for 43 horses, along with a main house, two guesthouses, staff apartments, two barns, and outbuildings. Olympic-caliber barns have soft stall matting and rubber-tiled floors with radiant heated aisles. The Upper Barn has 14 12-foot x 12-foot stalls, including two foaling stalls and two grooming stalls, two wash stalls, a laundry room, tack and feed rooms, UV therapy lights, and a covered hot walker. The grounds are laced in specially constructed golf cart paths with rider-friendly footing leading to 17 groomed paddocks, a 3.5-acre Grand Prix Field with natural jumps and a viewing stand, a 140-foot x 260-foot outdoor ring with drained and tiled all-weather footing, plus an 80-foot x 180-foot indoor ring. The main house captures sunset views from all windows, terraces, and balconies surrounded by beautiful gardens with koi pond, a pool, and a heated spa. Further highlights include an indoor golf room, seven-car garage, a saltwater pool, and a tennis and basketball court.
$28,500,000
Property ID: 7HBCGD | sothebysrealty.com
Sotheby's International Realty – Greenwich Brokerage
Krissy Blake +1 203.869.4343
STOCKTON
NEW JERSEY
In the rolling hills of Hunterdon County, N.J., just 70 miles from New York City, Holly Farm is a 120-acre, world-class equestrian facility currently used as an Olympic-caliber show-jumping facility, though its topography suits other disciplines as well. The award-winning, architect-designed main barn provides luxury accommodation for horses and riders with 16 stalls, grooming and wash stalls, and a vet/farrier stall, all by Corton, an elevator to a ready-to-finish luxury apartment and atrium viewing area, and a hay-storage wing and attached 70-foot, clear-span six-horse hot walker. There is a separate summer barn with eight stalls and for those who would like to make it a party, there is plenty of parking for visitors' trailers, including RV hookups. From the stone manor house to guest and staff cottages, all is beautifully maintained. Equestrian perfection.
$6,950,000
Property ID: BZPL33 | kurfiss.com
Kurfiss Sotheby's International Realty
Chris Preston +1 215.262.9609
RANCHO SANTA FE
CALIFORNIA
This remarkable 77-acre Covenant estate comprised of seven parcels transcends expectations with multiple residences, two state-of-the-art barns, riding arenas, several pastures, and tree-lined trails. The 15,000-square-foot main home is a classic Santa Barbara style with understated elegance, and a two-bedroom guesthouse adjoins the fully equipped game room with a bowling alley, a bar, and a gym. Perfect for enjoying all your favorite activities, sports, and hobbies, this remarkable property is also set up to accommodate a variety of equestrian disciplines. There are multiple residences for welcoming family and friends and to have on-site staff, trainers, and managers. Strategically developed to achieve the ultimate in privacy yet conveniently located just minutes to downtown, airports, shopping, beaches, and showgrounds, this special haven is unlike any other in the area.
$98,500,000
Property ID: HER9PL | pacificsothebysrealty.com
Pacific Sotheby's International Realty
Patricia Kramer 858.945.4595
Cathy Gilchrist-Colmar 858.775.6511