Frank Sinatra's iconic Los Angeles home in the upscale San Fernando Valley neighborhood where he threw star-studded parties has hit the market to the tune of $21.5 million.
The New York, New York singer-turned-actor rented the slickly designed property during the 50s and 60s, from its owner, Chase Manhattan Bank heiress Dora Hutchinson.
The 10,000 sq ft property was designed in 1949 by Pereira Luckman AIA, the same firm behind the Los Angeles International Airport and Washington's Kennedy Center.
Since Sinatra's tenancy, the home has served as a set for numerous movies and TV shows including AMC's Mad Men, Showtime's Californication, and the 2006 film Dreamgirls.
Sinatra's property portfolio
During his lifetime, Sinatra rented several homes and owned at least six properties but this California compound was one of the pricier pads he lived in, although there is no word on the rental figure he paid. During his time there he wined and dined a roster of Hollywood's finest including Dean Martin and Ava Gardner.
Some of Sinatra's other well-known homes on the west coast included one he commissioned in Palm Springs which included a piano-shaped pool, his primary residence in Rancho Mirage, and a lodge-style retreat in Palm Desert where his Rat Pack pals reportedly flew in by helicopter.
Meanwhile, on the East Coast, Sinatra purchased a 3,200 sq ft penthouse at 530 E 72nd Street in New York which overlooked the East River, and later in his life, he moved into a penthouse at the Waldorf Astoria with his fourth wife Barbara.
He also spent the summer months at a five-bedroom beach house in his home state, New Jersey.
While all of his properties varied in style and size, one thing that they had in common is that they were large enough to house a grand piano or two.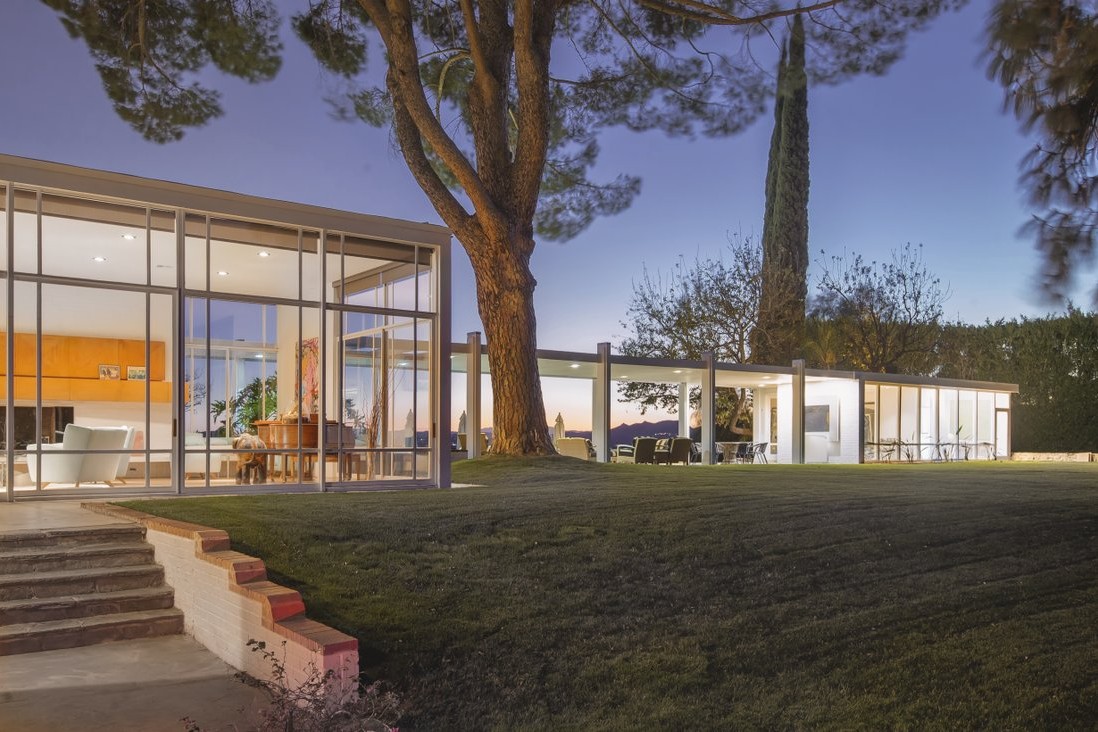 Plenty of space for entertaining
His newly-listed California rental home, which is known interchangeably as Farralone or Byrdview House, features ample living space with a contemporary open-plan design.
Along with the main house, the compound features a cabana and a guesthouse with its own circular pool. Sinatra sublet this outbuilding to Marylin Monroe and it reportedly served as a love nest during her notorious affair with President Jack Kennedy.
In total, there are seven bedrooms and nine bathrooms with a minimalist and slightly retro feel running throughout.
Whitewashed walls allow contemporary wall hangings to take center stage, while dark wood flooring provides a feeling of warmth.
Communal areas in the house include a large living room with a full bar, a dining area, a formal dining room, and a piano room.
Floor-to-ceiling windows which encase the property provide unapparelled views of the surrounding gardens and over the vast 1,325-acre Chatsworth Reservoir nature preserve below.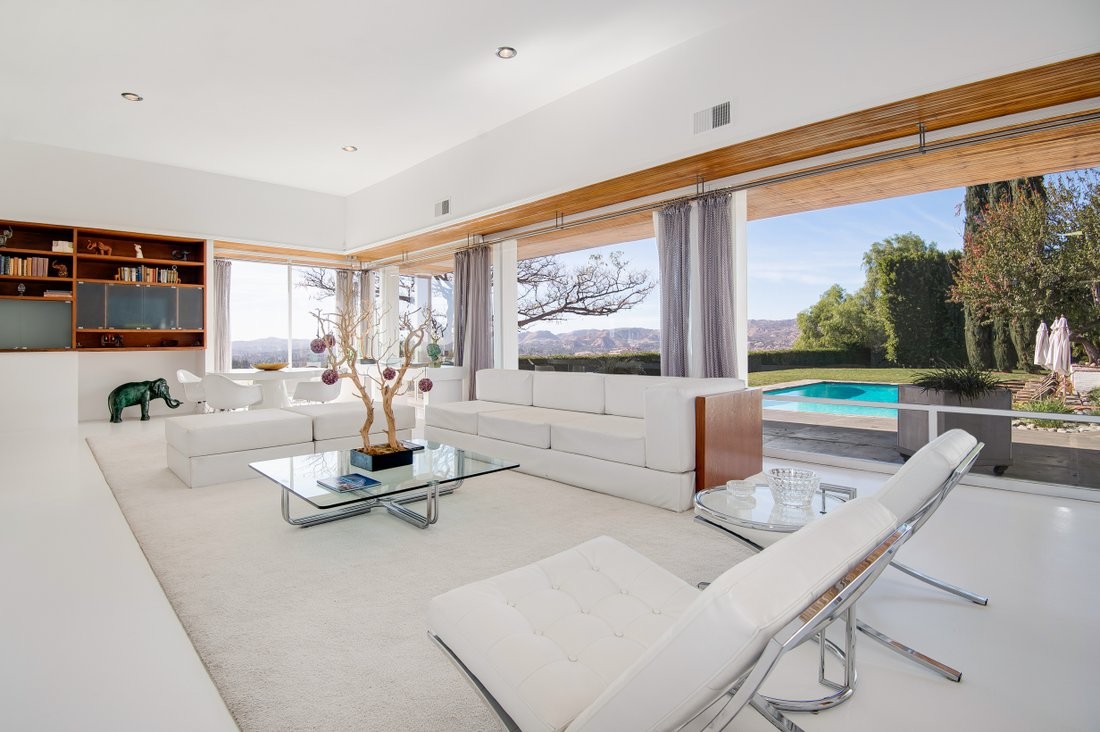 Floor-to-ceiling windows provide unapparelled views of the gardens and over the Chatsworth Reservoir nature preserve below
For fitness enthusiasts, there is a wellness area that houses a gym, massage and steam rooms, and a sauna. Meanwhile, film buffs will love the state-of-the-art production studio.
Moving outdoors, there is a 50 ft swimming pool framed by a sundeck and a lounge area, a car park large enough to accommodate more than 100 vehicles, a helipad, and a fledging vineyard.
In terms of its positioning, the home sits securely atop a hill behind gates and there is a winding driveway that runs for more than two miles.
The property was first publicly listed for sale in 2011 for $12 million.
Lynn Teschner, a realtor from Coldwell Banker Previews International who was representing the sale, told Forbes at the time: "If walls could talk, this house has had more celebrities in it than just about any other house in Los Angeles."
This time around, the sale is being managed by Barrie Livingstone of Sotheby's.
Along with it being the ultimate party pad, realtors note the property as an income-producing vehicle as it has pulled in more than $2 million a year from location shoots.